Hon. Mr. Justice Adrian Saunders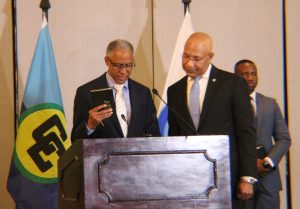 The Hon. Mr. Justice Adrian Saunders
Chairman, RJLSC
The President of the Caribbean Court of Justice, who shall be the Chairman of the Regional Judicial and Legal Services Commission. St. Vincent and the Grenadines – [Article V.1 (a)]
Biography
The Honourable Mr. Justice Adrian Saunders, President of the Caribbean Court of Justice (CCJ), is a native of St. Vincent and the Grenadines. He holds a Bachelor of Laws degree from the University of the West Indies (Cave Hill) and a Legal Education Certificate from the Hugh Wooding Law School in Trinidad & Tobago in 1977.
The Honourable Mr. Justice Saunders joined the Eastern Caribbean Supreme Court (ECSC) High Court Bench in 1996, after 19 years of private practice. On May 1, 2003 he was appointed to the ECSC's Court of Appeal and served as acting Chief Justice between 2004 and 2005.
The Honourable Mr. Justice Saunders was among the first cohort of judges to join the CCJ bench in 2005, before elevating to the office of Court President on July 4, 2018.