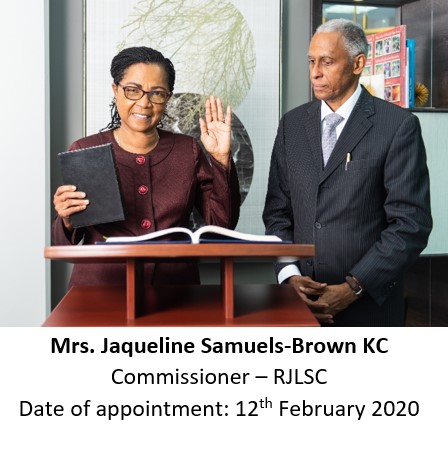 Nominated jointly by the Dean of the Faculty of Law of the University of the West Indies, Deans of the Faculties of Law of the Contracting Parties and Chairman of the Council of Legal Education, Jamaica – [Article V.1 (f)] 
Jacqueline Samuels-Brown, KC qualified as an attorney in 1980 and was admitted to the Inner Bar as Queen's Council in 2010.  As a litigation attorney she has practiced mainly in the courts of Jamaica and has participated in commissions of enquiry both as counsel and a commissioner. 
Mrs. Samuels-Brown, having been nominated to represent Jamaica on the Council of Legal Education, served as its Chairman from September 2010 to September 2016. Prior to this she tutored in Criminal Practice and Procedure at the Norman Manley Law School. She has been a member of the Jamaica Bar Association serving as its president from June 2008 to March 2011 and remains a member of its executive, the Bar Council.