The Annual Caribbean Court of Justice (CCJ) International Law Moot Competition is an activity in which law students take part in a simulated court proceeding. To bring the proceeding to life, each law faculty or institution represents the claimant or defendant in an Original Jurisdiction case before Judges of the CCJ at the seat of the Court in Trinidad and Tobago. The CCJ views the Moot as an excellent way to introduce regional law students to the tenets of the Revised Treaty of Chaguaramas and raise awareness of the Court's Original Jurisdiction.  
This year, the Court will host the 13th Annual Caribbean Court of Justice International Law Moot Competition from 16-17 March 2023 at the Court's headquarters in Port of Spain. Seven (7) regional teams, namely the Eugene Dupuch Law School, Hugh Wooding Law School, Norman Manley Law School, The University of the West Indies (St. Augustine and Cave Hill), Anton de Kom University of Suriname and the University of Guyana will compete in this year's event. The Court's last competition was held virtually, with six (6) regional teams competing. The Norman Manley Law School from Jamaica emerged as the competition winner, with the Anton de Kom University winning the prize for Best Academic Institution. The Social Media Spirit Prize, which was introduced at last year's competition to raise the profile of the participating teams, increase camaraderie and extend involvement in the Moot to the wider academic community and the public, was won by The University of the West Indies, Cave Hill campus.  
The Annual CCJ International Law Moot Competition is an exciting experience! To get in on the action and see our upcoming attorneys from the region, you may tune in live on YouTube to view the Final Moot, which features the last two scheduled teams. To learn more about the Moot question, schedule and other related matters, you may click on any of the sections below: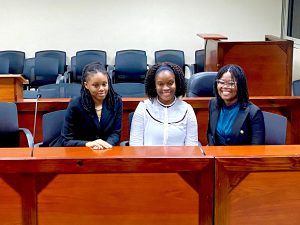 The XII Annual CCJ Internal Law Moot winning team (Norman Manley Law School) comprised L-R: Ms Iyka Dorival, Ms Kimberly Blackwood and Ms Shaquan Richards.