The Honourable Mme. Justice Maureen Rajnauth-Lee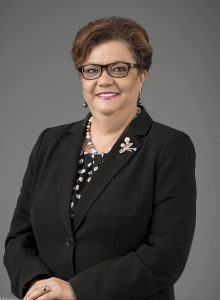 The Hon. Mme. Justice Maureen Rajnauth-Lee was sworn in as a Judge of the Caribbean Court of Justice (CCJ) at a ceremony at the Office of the President of the Republic of Trinidad and Tobago on the 27 March 2015.  She is the first woman citizen of Trinidad and Tobago to be appointed to the CCJ bench.
She is a former Justice of Appeal of the Trinidad and Tobago Judiciary; a graduate of the University of the West Indies with a Bachelor of Laws (First Class Honours) and of the Hugh Wooding Law School.  Admitted to practise law in 1980, she served in the Solicitor General's Department and in 1986, embarked on a career in private practice.
She is a founding member and former Vice-President of the Caribbean Association of Women Judges and of the Trinidad and Tobago Association of Women Judges. She is a certified Mediator and a Fellow of the Chartered Institute of Arbitrators. She chaired the Sexual Offences Advisory Committee appointed under the JURIST project to provide support for the development of the Sexual Offences Model Guidelines for the Caribbean Region and for the establishment of a Sexual Offences Model Court in Antigua and Barbuda. She also chaired a Working Committee which developed a Harassment Policy for the CCJ. In March 2019, Justice Rajnauth-Lee was a presenter at the Commission on the Status of Women (CSW 63) Side Event held at the United Nations in New York, speaking on the theme "Beyond Bias: Access to Justice and Social Participation in the Caribbean".