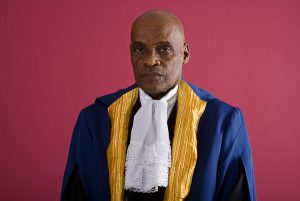 The Honourable Mr. Justice Duke E.E. Pollard (Guyana) received his secondary education at Queen's College (Guyana), after which he took the B.A. (Hons) and the LL.B (Hons) degrees from the University of London.  He followed these with Master of Laws (LL.M.) degrees from both McGill and New York Universities.  The Honourable Judge is also: the holder of the Legal Education Certificate from the Norman Manley Law School; a member of the Bars of Guyana and Jamaica; and a Fellow of the Centre for International and Comparative Law of McGill University.
Over the years, Mr. Justice Pollard has established himself as an expert jurist in international law, specialising in international economic law, the Law of the Sea, international institutional law, the Law of Treaties, general integration law and economic integration law.
From 1970 to 1974, Mr. Justice Pollard served as Minister-Counsellor in the Guyana Permanent Mission to the United Nations. Over the period 1972-1974, he was Legal Advisor in the Ministry of Foreign Affairs of Guyana and acted as Permanent Secretary in that ministry. Mr. Justice Pollard was also Legal Advisor to the International Bauxite Association from 1974 to 1982, and, as of 1984, consultant on diverse international law projects for the United Nations, the Commonwealth Secretariat, the Caribbean Law Institute and the Caribbean Community (Caricom) Secretariat.  His career within the Caricom Secretariat includes the post of Officer-in-Charge, Legal & Institutional Development Division (1996-2002) and Director of the Caricom Legislative Drafting Facility (2003 to 2005), before his elevation to the Bench of the Caribbean Court of Justice.
Apart from holding representational posts in numerous and varied international conferences, Mr. Justice Pollard has written extensively on a multiplicity of aspects of international law and has participated in the drafting of many important Caricom instruments, including the original and revised Treaty of Chaguaramas and many of the agreements and protocols that pertain specifically to the Caribbean Court of Justice.  He has authored a significant body of studies, articles, monographs, and draft treaties and legislation, constituting an impressive opus of reference material.
Mr. Justice Pollard is married to Donna née Grant.
Mr. Justice Duke Pollard demitted office as Judge of the Caribbean Court of Justice on June 10th 2010. He is currently Professor of Law at the University of Guyana.