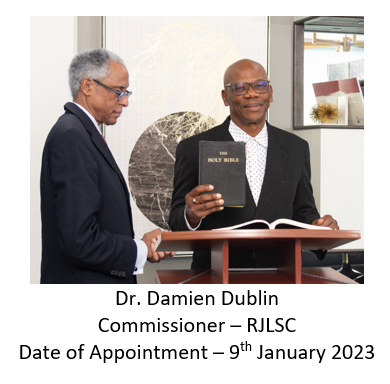 Chairman, Public Service Commission of a Contracting Party selected in the reverse English alphabetical order, Guyana – [Article V.1 (d)]
Dr. Damien Dublin has over 30 years in leadership and management positions.  His rich professional background spans, public, private and NGO sectors, including serving as the current Chairman of the Public Service Commission of Dominica, Chairman of Dominica Reparations Committee and Member of CARICOM's Reparations Committee.  Dr. Dublin is also a non-resident Ambassador to the Republic of Costa Rica and also serves on several Boards.  He is a Dentist by profession and is the Founder and Manager of Dublin Dental Clinic in Dominica.
Dr. Dublin previously served as the Chairman of the National Foundation of Dominica and served as the former President of the Dominica Planned Parenthood Association as well as the St. Paul Co-operative Credit Union.  Dr. Dublin is the recipient of the Commonwealth of Dominica's Second National Highest Award – the Sisserou Award of Honour.